It is not only in these days that people travel long distances. They always have a good reason to leave their homes and seek a better future for their children.
German refugees left 200 years ago, and went to South Caucasus, even further than the Syrian regufees today. They left traces in Georgia and Azerbaijan. Some in the North escaped from Prussia´s military service, some in the South wanted to have religious freedom. With the poor means they had, they somehow made it to the Caucasus. They founded villages with names such as Katharinenfeld and Helenendorf.
Today, visitors from far away can still see them. They can make interesting discoveries, such as this man who came across houses that looked so untypical of the area: Katharinenfeld  in the South of Georgia – Bolnisi is the name for the place today.
I was there in 2009 to visit refugees from South Ossetia, who were driven out of their homes by the war between Georgia and Russia! Again: refugees! Houses German style, refugees from South Ossetia!
Visit to Bolnisi in: Der Tagesspiegel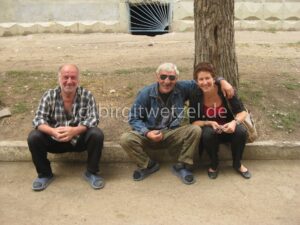 Interviewing refugees from South Ossetia